SHOULD YOU TAKE YOUR ACCOUNTS OFFSITE? YOUR 8-POINT CHECKLIST
WHY US
PROGRESSIVE BUSINESSES KNOW IT MAKES SENSE TO OUTSOURCE NON-CORE ACTIVITIES
The key with outsourcing is to choose your partners carefully. Sure, moving your accounts function offsite to The Finance Dept as a specialist provider will save you money…possibly tens of thousands of dollars a year, but quality service and reliable, timely data should also improve your bottom line by helping you grow your business…
BETTER
You're specialists at what you do. So are we. You've honed your skills in your profession, not in how to do your accounts well. And hiring an in-house accounts person or financial controller is risky. Are they up-to-date? How can you know? You can't. As specialists, we provide you with financial control you can rely (and sleep well) on.

FASTER
Business is moving faster and faster with each passing month it seems. The rate of change is unprecedented. And it's not slowing down any time soon. To compete, your business needs to make decisions fast, on up-to-date data. If your financial data is weeks old by the time the reports hit your desk, you're lagging...badly. We'll fix that for you.

CHEAPER
Ok. We could have said, "cost effective" but we like to call a spade a spade. And besides, "cheaper" goes well with "better" and "faster". The fact is, outsourcing your accounts function will save you tens of thousands of dollars each year. You'll save on salaries, super, sick leave, software, office space...even coffee!
ABOUT US
We created The Finance Dept because we know how
difficult it is to run a business – it's hard work. As a professional,
you need to stay focused on what you're best at and what will
give you an edge over your competitors. You have clients to look
after, staff to train, tasks to complete. There's enough to focus on
just in your core business activities, without having to worry about
running an accounts department as well.
By outsourcing your accounts function to us, you'll eliminate the
additional overheads of recruiting fees, salaries, superannuation,
sick leave, annual leave, computer hardware, software and office space.
More importantly, you'll have confidence knowing your accounts
are being done professionally, to best practice levels, giving your
management team up-to-date, accurate, beautifully presented
reports for timely decision making.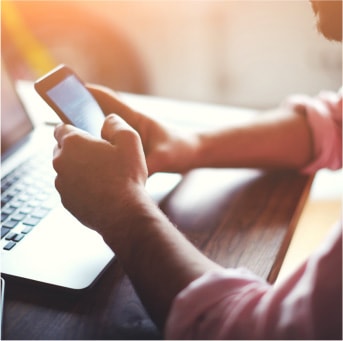 ON-SITE VS OFF-SITE
TRADITIONAL ON-SITE APPROACH
Advertise the positions, interview candidates, check their references, select a
candidate, hope you picked the right one, provide training.
Sign long-term employment contracts.
Pay a salary plus superannuation, possibly even leave loading and payroll tax.
Maintain office space and hardware for accounts staff.
Pay for annual leave and sick leave plus the costs of replacement staff.
Basic accounts and management reporting that 'ticks the boxes' for compliance
but provides little financial insight for management decision making.
THE MODERN OFF-SITE APPROACH
We're available now. And we have a proven track record of expertise, knowledge and quality work.
No lock-in contracts. Just great service for as long as you nee d it.
One monthly invoice – simple.
Keep that space free for other key roles within the business.
We have the structure in place to cover all aspects of your accounts function, all year round.
Monthly management reports graphically showing all aspects of the business. This allows you to direct your business with confidence.
PROCESS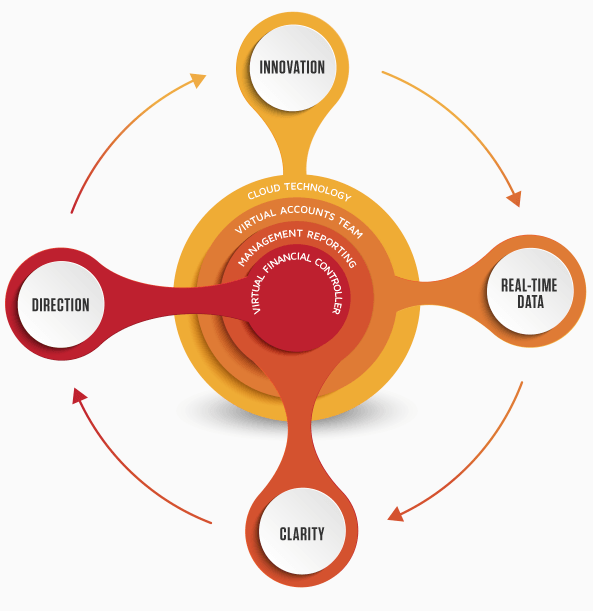 THE FINANCE DEPT BRINGS TO YOUR BUSINESS
A POWERFUL COMBINATION OF 4 THINGS:
1. Innovation Due to cloud-computing, the rate of innovation is rapid and accounting and business management software have not been excluded. As a business owner or management team you're at a distinct disadvantage if you're
not using these tools and your competitors are. We'll set your accounts
up on Xero and then we'll recommend add-on apps that plug in to Xero to
streamline and automate many processes in your business that are
currently being done manually. It's so incredibly efficient. You' ll love it.
2. Real-Time Data Business moves fast. Decisions need to be made on current data, not weeks-old financial data. Leveraging off the back of the cloud-based
technology we'll implement in your business, our Virtual Accounts Team
will put at your fingertips the accounting and management information
you always wished you could access on demand. Wherever you have an
internet connection, you'll be able to view on your computer, smartphone
or tablet our beautifully clear and graphical management reports.
3. Clarity With a real-time dashboard and management reports in your hands,
you'll experience a whole new level of clarity in your business decision
making. You'll spot trends early and be able to take corrective action to
nip things in the bud, and you'll have confidence knowing you are fully
informed of all the key numbers in your business. Sure, gut feel is
important but hard data gives you a solid foundation for your decisions.
4. Direction When you're managing a business it's often difficult to see the forest for the trees. You're in the midst of the busy-ness of it all and it's easy to lose
site of the the big picture and to check that everything is on course for the
business. Imagine having a numbers-savvy business colleague to
bounce your ideas off and to ask for strategic input. This is what our
Virtual Financial Controller service gives you: senior management level
input and strategic guidance to help you take your business to the next level.
MISSION
A LOCAL BUSINESS WITH NATIONAL REACH
We're committed to providing Australian professional services
businesses with the cost effectiveness of outsourcing their
accounts without the risk and uncertainty of offshoring.
While outsourcing makes sense, offshoring your accounts data
certainly doesn't. That's why we handle everything from our
offices in Brisbane. You can rest easy knowing that your outsourced
accounts team is based here in Australia.
Serving businesses Australia-wide, our team supports
progressive professional services businesses using the latest
cloud-based technology. But more important than the 'tech
factor' is the 'care factor' – we love what we do and we love
making our clients happy. We take great pleasure in taking a load off
your shoulders and putting a smile on your face.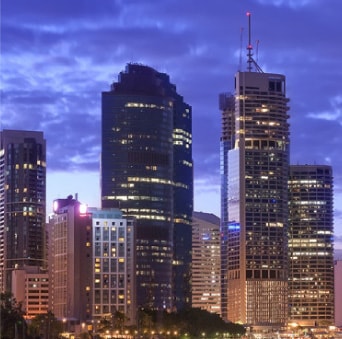 WE CAN TAILOR ANY OF OUR PACKAGES
TO SUIT YOUR SPECIFIC REQUIREMENTS
PACKAGES
WHETHER YOU'RE AFTER DIRECTION, CLARITY OR JUST INFORMATION YOU NEED TO MAKE INFORMED DECISIONS, WE HAVE A MONTHLY PACKAGE TO SUIT YOU.
| | | | |
| --- | --- | --- | --- |
| Cloud Accounting & Systems Setup | | | |
| Financial control process flowchart | | | |
| Xero setup | | | |
| Xero subscription | | | |
| Branded Xero invoice template and statement | | | |
| Systems review & cloud app recommendations | | | |
| Virtual Accounts Team | | | |
| Transaction coding | | | |
| Electronic sales invoices and statements | | | |
| Business bank account reconciliations | | | |
| BAS lodged electronically | | | |
| All balance sheet reconciliations | | | |
| Payroll processing | Up to 10 employees | Up to 20 employees | Up to 30 employees |
| Annual ATO payroll compliance & payment summaries | | | |
| Electronic debtor reminder system | | | |
| Fixed assets register | | | |
| Management Reporting | | | |
| Standard Xero Profit & Loss and Balance Sheet | | | |
| Customised monthly management reports | | | |
| Budget setup | | | |
| Budget tracking – Actual vs Target | | | |
| Real-time management dashboard | | | |
| Virtual Financial Controller | | | |
| Business review meeting (phone or Skype) | | Quarterly | Monthly |
| Analysis and recommendations report | | | |
| Support | | | |
| Flexible contract term | | | |
| Email support turnaround time | 24 hours | Same day | 2 hours |
| Instant chat support | | | |
| Telephone support | | | |
| Direct mobile 'Hotline' support | | | |
BRAD HUFFELS
Brad is a qualified accountant, member of the Institute of Public Accountants, Institute of Financial Accountants and a Certified Xero Adviser. Prior to establishing The Finance Dept in 2008, he spent more than 15 years working in various financial control and management roles in corporates of all sizes throughout the world.
Brad has helped many small and medium business owners to grow their businesses and implement systems that save them time, money and reduce stress. Brad lives and breathes business and practices what he preaches in his own business – efficient systems and the best technology.
Connect to Brad on LinkedIn and enjoy what he shares around business and technology.
And feel free to get in touch. After our initial chat you can choose to have us perform an Accounts & Management Systems Audit to identify any gaps in your processes and where your business will benefit from making The Finance Dept your finance department.
HOW EFFICIENT AND UP-TO-DATE ARE YOUR ACCOUNTS PROCESSES? FIND OUT.
TESTIMONIALS
HERE'S JUST A SAMPLE OF WHAT OUR CLIENTS HAVE SAID ABOUT US.
"The streamlined processes that the Finance Dept provide have been tremendous for our practice. They are easy to deal with and the knowledge and professionalism of the team is exceptional. Engaging The Finance Dept has been a great investment for our business and I would recommend them to any dental practice seeking an external accounts team…great value for money."

"We've been using the team at The Finance Dept for over 7 years now and have always found their knowledge and professional service a great resource for our company. Attention to detail and dedicated service proves to me that The Finance Dept truly cares about their clients. Moving our accounts team offsite saved us over $40,000pa and we couldn't be happier all these years on. Our business relationship will continue for years to come."

"Brad and the team were extremely efficient and professional with our transition to Xero and ultimately to us becoming a 100% cloud-based business. We now have a reliable system in place which meets both our accounting and internal management needs. We're extremely happy with the solution and ongoing support we receive from The Finance Dept and would recommend them highly to any business."

"We have been using The Finance Dept for over 5 years. They have moved us over to Xero which has dramatically improved the efficiency of our end of month and end of year saving us significant dollars which now stay with the school. I would highly recommend The Finance Dept to any business that is looking for a better standard of financial data at a lower cost."
CONTACT US
EXPLORE THE BENEFITS OF OUTSOURCING YOUR ACCOUNTS TODAY WITH A FREE, NO OBLIGATION CHAT TO DISCUSS HOW WE CAN HELP YOU.
BLOG ARTICLES
READ OUR BLOG ABOUT USING THE LATEST TECHNOLOGY FOR BETTER MANAGEMENT DECISION MAKING.